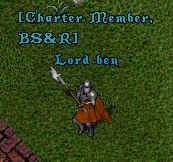 ben
Charter Member of Britannia Search & Rescue
On the Baja Shard
April 1998
ben had led a very ordinary and mundane life in the city of Trinsic as a young lad. He had been raised by the Paladins of Trinsic, being abandoned by his parents at a tender age. He was never looked upon favourably as a fighter by his peers because they thought he did not have what it took to be a warrior. Thus he had always been pushed into doing chores, such as cooking and tailoring. However, believing that he would succeed, he set off to find his own destiny and adventure...and his journeys began when he had saved up enough gold, ironically, from the tasks that he hated most.
Dreaming of adventure and battles he set off for Britain. However, his dreams were shattered when he arrived—some lowly thief had stolen the only 400 gp he had. It was then young ben realized the dangers in the real world...at a time when he felt that he was lost and without the tools of his trade. (Okay, I am a dumbass for selling my stuff!!! — ben)
He wandered around the city aimlessly for days...until Christmas when he had to resort to begging from two lords. One of them was Lord Milton and the other...Lord Mr. Christian. These two kind lords extended their hand in help to young ben...especially Lord Mr. C., being a Great Lord and Grandmaster Warrior, he guided ben, showing him the basics of Swordfighting,Tactics and Magery. Over the months Mr. C. had become young ben's master and mentor in the skills of combat and defense and more importantly the Virtues. Ben's skills were honed fighting cats and dogs in Jhelom...until he had become strong enough to venture into the wild.
At his first hunt with Britannia Search & Rescue Guild, ben was amazed at the prowess that all the guild warriors exhibited. He had realised his skills were nothing in comparison. However, not being disheartened and holding on to all that "MasterC" had taught him he furthered his studies in combat—fighting in Deceit and Hythloth.
Having enjoyed the company of the guild members and to better serve his mentor, Mr.C., he decided to enlist into BS&R. To this day ben can be seen hanging around the East Bank of Britain, seeking adventure with fellow warriors. Orcs and Ettins beware!!!